This is the Treaty House at Waitangi and is one of New Zealand's oldest surviving colonial buildings. It was pre-fabricated and shipped from Sydney, Australia and was the Residency of the British Resident, James Busby.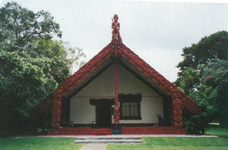 The Whare Runanga (Meeting House) at Waitangi. the Meeting House and the gassed area in front of it (marae) form the basis of Maori culture and society.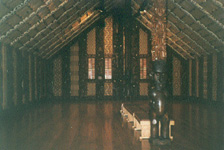 This is the interior of the meeting house (left). There are many carvings forming the pillars of the house and one is illustrated here (right).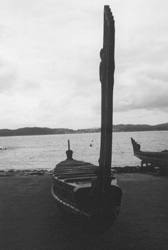 These two war canoes are now used on ceremonial occasions. Once a year a war canoe is launched to commemorate the signing of the Waitangi treaty.

The large canoe (on the right) is 35 meters long and can carry 80 warriors.


The Bay of Islands has had a chequered past, with whaling boats calling here to trade with the Maoris. Russell, across the bay from Pahia and now a smart town, was once known as the Hell Hole of the Pacific because fights, lawlessness and land disputes were common in the early 19th century.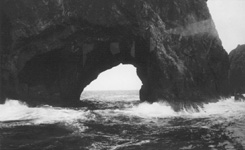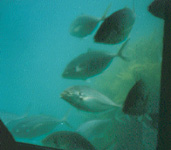 We took a cruise with Fullers cruises around the Bay of the Islands to the Hole in the Rock. It was too choppy to go through the hole but we did see a smaller jet boat go through it. We stopped at an island and went in the Nautilus underwater boat and saw these fish.

The cruises originated as Cream Cruises when boats would sail around the bay picking up cream from the local farms for delivery to market. More information can be found on the Fuller's website.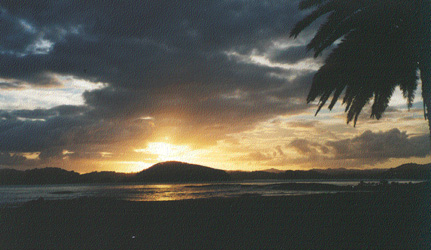 Sunrise over the Bay of Islands from Waitangi.