10th - 13th March 2000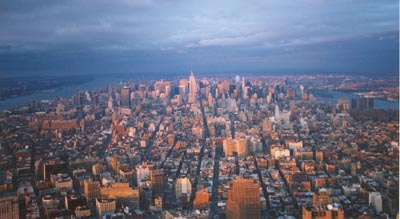 New York from the Word Trade Centre looking North, the Empire State Building is in the middle of the picture.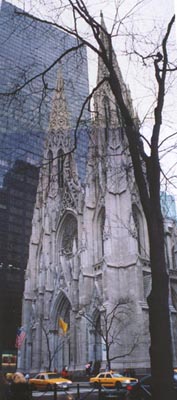 For Mum's 60th Birthday we went to New York for the weekend. We stayed in a hotel over looking Broadway and 7th Avenue which was close to the discount theatre ticket office for Broadway shows. Arriving at 6pm on Friday evening, we were watching the 8pm performance of Saturday Night Fever the same evening.

On Saturday we walked up towards Central Park passing St Patrick's cathedral (left) on the way. We spent most of the day in the Metropolitan Museum of Art and also the American Museum of Natural History, due to the inclement weather. We enjoyed the Tiffany collection and the Paris Painters exhibitions in the Met and the dinosaurs in the Natural History museum. We got a New York City Pass which gives admission to 6 attractions (including these museums) for $28, it also claims 'no ticket lines' but this was not true at the Natural History musuem.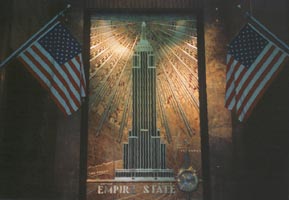 One of the things we did was a walking tour of Lower Manhattan which was described in the Lonely Planet New York City book. We adapted this slightly to fit in with our plans and started our walk at the Empire State Building. It was rather cloudy at the top, but we managed to catch glimpses of the view as the cloud cleared. The picture on the right shows the Chrysler building (middle) and Citibank building (left) looking North East.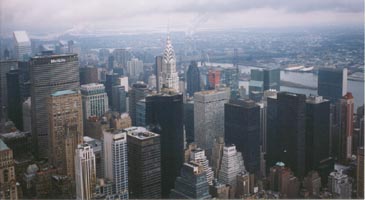 We then caught the subway to the 'official' start of the walk which began at City Hall near the pedestrian entrance to the Brooklyn Bridge. After walking around the civic buildings we went in to the Woolworth building and continued down Broadway to Wall Street. The picture on the left is a view looking back down Wall Street to Trinity Church, which used to be the tallest building in New York until skyscrapers arrived.
After walking around the financial district we arrived at Battery Park and Castle Clinton where we caught the Statue of Liberty ferry. The ferry goes to the Statue first (see picture right) and then on to Ellis Island. We stayed on the ferry for the round trip which takes about and hour and a half.

The walking tour continued from Battery Park going up Pearl Street to Fulton Fish Market and then to South Street Seaport. Although the tour finishes here, we walked on to the World Trade Centre to get views of the city at sunset. The picture on the left is a view towards Brooklyn showing the Brooklyn and Manhattan bridges. The Seaport is hidden behind the tall buildings at the bottom centre of the picture.