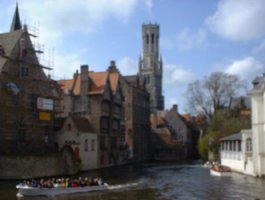 Bruges, so called Venice of the North, was cool and a bit damp when we visited at Easter. This picture is a classic postcard shot showing a canal, a boat and the famous belfry in the background. A good way to see the city is on a boat trip (30 minutes) through the canals. The city center is compact and it is easy to walk around - there are several walking tours that you can do.

Bruges is centered on the 'Markt' (Old Market Square) with the Town Hall on the east side (left) and the Belfry on the South (right). Climbing up 366 steps to the top of the Belfry you can see the whole of the city beneath you and the countryside beyond. Its best to go up at 9.30 when it opens to avoid the queues and having to pass people on the very narrow stairs.
This picture is taken from the Gruuthuse museum, which is a medieval nobleman's house. One of the features of the house is the direct access to the church of Our Lady next door, the family didn't even need to leave the house to go to church! There is also a room dedicated to the former prison complete with guillotine.
Another museum worth visiting is the Sint John's Hospital, which is one of the oldest medieval hospitals in Europe. The hospital chapel usually houses the Memling collection of paintings but is currently closed for restoration. The Memling collection can be seen in the Groeninge Museum which has a collection of Flemish and other paintings.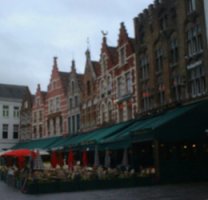 These houses are typical of the architectural style of Bruges, note the different figures on the top of each building. Many buildings date back to medieval times and you can see the original dates on some of them.
These are in the Market Square, we were advised to avoid the restaurants there as they are expensive and not good value. We were recommended deStove and t'bezemtje both in Kleine St.Amandstraat, we had dinner at t'bezemtje and it was excellent. A good place for lunch was The Brewery which had light snacks for about five pounds which can be washed down with the brewery's own beer.

For shopping, there are many and varied shops selling everything from from designer labels to chocolate and lace.

For more information take a look at the Bruges official website www.brugge.be which has information in a number of different languages.