30th July - 6th August 2000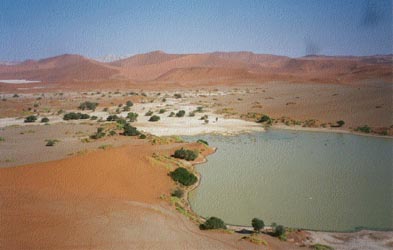 Sossusvlei is in the Namib desert, which stretches 2000 km North to South across three countries, but only 200km east to west. It is belived to be the oldest desert in the world. Sossusvlei (left) is a pan surrounded by the highest sand dunes in the world. In years of exceptional rains the pan fills with water from the Tsauchaub river.


The Sesriem Canyon (right) is a gorge cut out by the Tsauchaub river 15 million years ago. It was named after the ses riems or six lengths of rope that were needed to haul water out of the gorge to the top of the canyon. Click here for more photographs of the Sossusvlei area.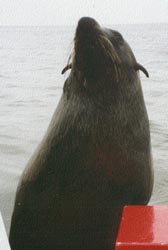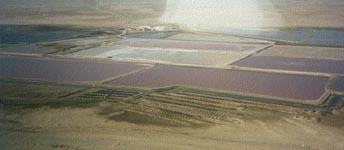 We went on a boat trip across Walvis Bay and saw the colony of fur seals. This one was particularly friendly and jumped on the back of the boat. We also saw bottlenecked dolphins which swam under the front of the boat. After the boat trip we had a most enjoyable fish lunch on the beach.
There are many salt works around Swakupmund, like the one on the right here.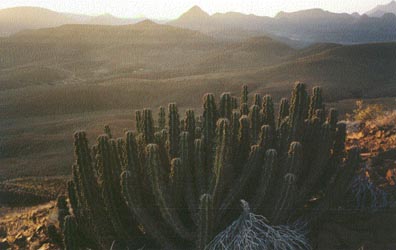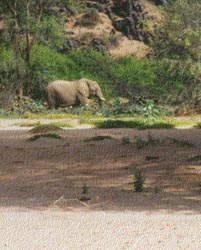 The Damaraland Camp was in a remote valley near the Huab River in central Damaraland. The scenery was spectacular. We went on some nature drives where we saw the desert elephant (right). We also hiked to the top of a hill overlooking the camp for great views of the surrounding hills (left).

Click here for more photographs of Damaraland.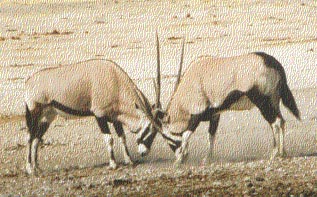 We stayed at Ongava camp, a private game reserve that borders Etosha on its southern side. Our room overlooked a water hole which was great for viewing the game that came there to drink, including a white rhino, some spotted hyenas and lost of differnt types of antelope.
Click here for more wildlife photographs.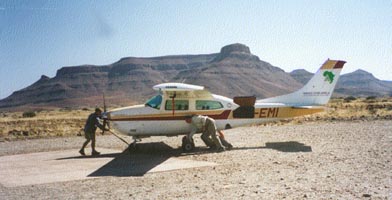 This is the plane we flew around in, piloted by Bruce. We started and finished at Windhoek, the capital of Namibia. Windhoek is tiny with a population of only 200,000. We walked around the main parts of town in about an hour.

We booked our trip to Namibia through Cedarberg Travel, they have an office in London adn one in Clanwilliam, South Africa. Their South African web address is www.cedarberg.co.za. In Namibia they use Wilderness Safaris which has an e-mail address, info@nts.com.na but no website. We took the Best of Namibia Wings Safari, which is six day flying safari.