10th December - 29th December 1999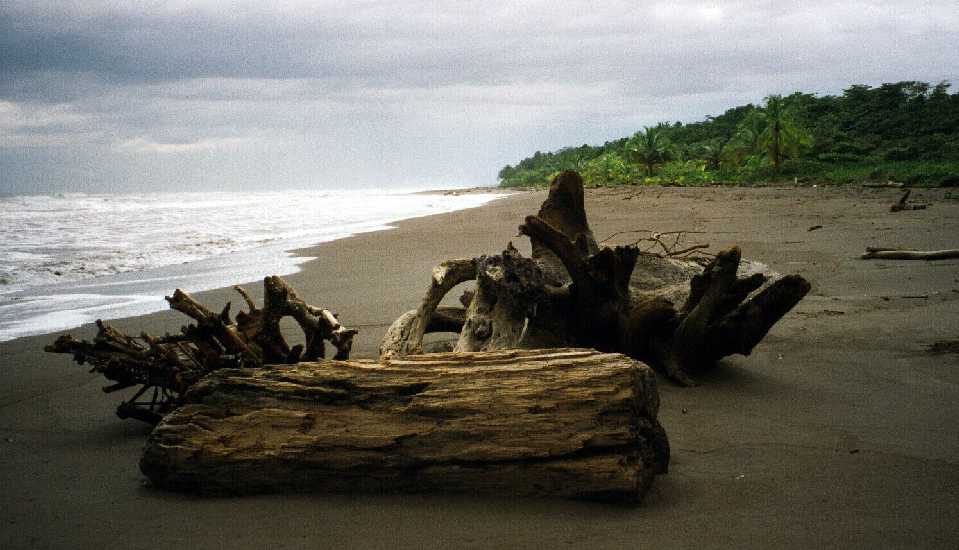 Corcovado
Savegre
White Water Rafting
Monteverde
Arenal
Totuguero
Costa Rica Wildlife (Separate webpage of photographs)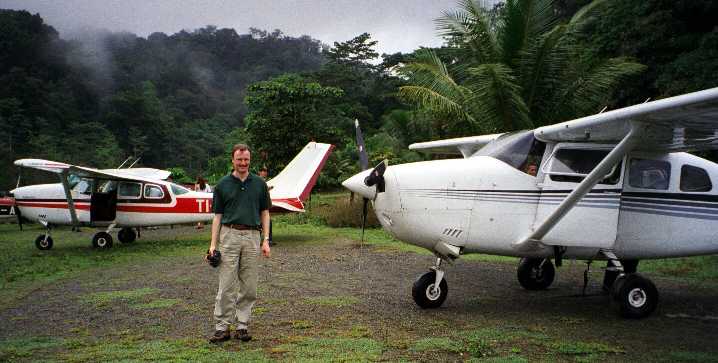 After an hours flight from San Jose we landed at Carate airstrip, a strip of grass on the edge of the rainforest (see photo left). Simon enjoyed the flights in these Cessnas, which are similar to those he flies from Wycombe.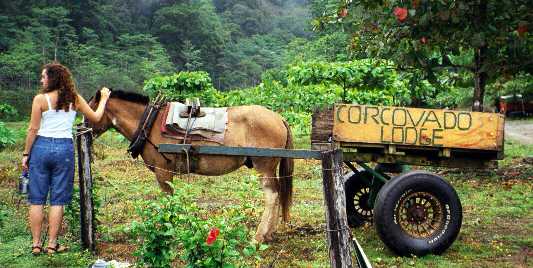 We walked along the beach to Corcovado tent camp, whilst our luggage went by horse and cart (see photo right).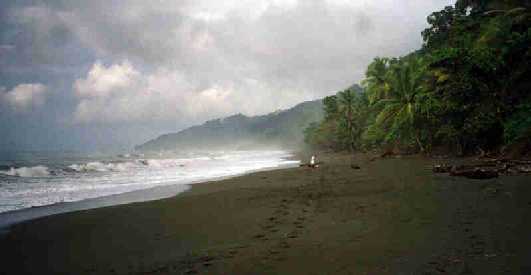 This is the view from the camp towards the national park (left). Along the beach we saw both the Costa Rican Navy (pelicans) and the Costa Rican Army (hermit crabs)!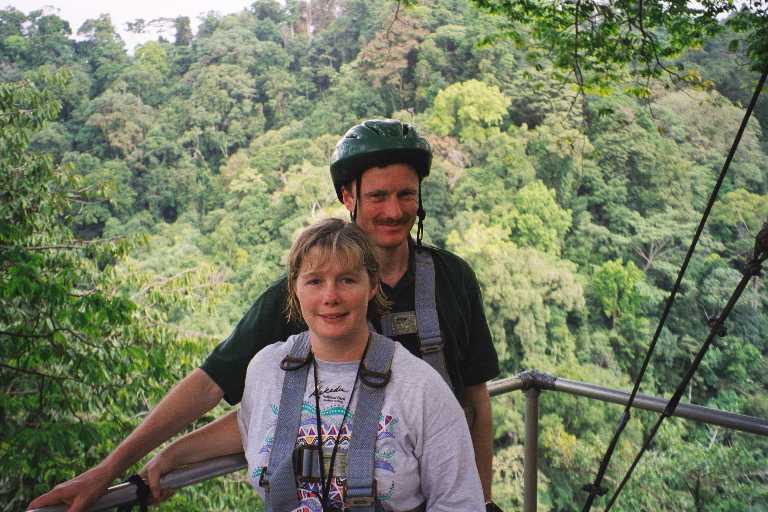 Whilst at Corcovado we did a number of (wet) hikes, including the Madrigal River. We also visited the tree canopy platform which gives a great view across the canopy (see photo right). There we saw a sloth (fleetingly), some howler monkeys and scarlet macaws.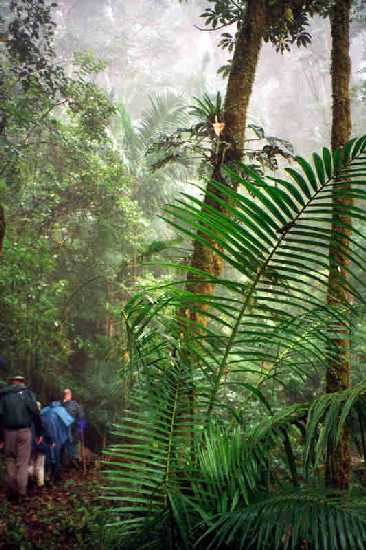 Our hike started from near the summit of Cerro de la Muerte, on a clear day you can see both the Pacific and Altantic oceans from here. Today we could only see the Pacific coast as it was rather misty. We walked down through rainforest and cloud forest back to the Chacon Farm where we were staying. We did see the Resplendant Quetzel, but not close enough for photographs. This picture shows our group hiking through the cloud forest.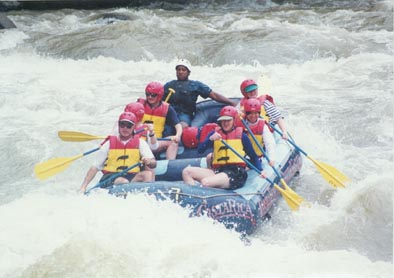 We went white water ratfting on the Rio Pacuare on a two day trip over Class III and IV rapids. This was my first (and probably last) experience of rafting - after falling out twice, I won't be rushing back. However, Simon really enjoyed the rafting and he thought that this was a highlight of the trip.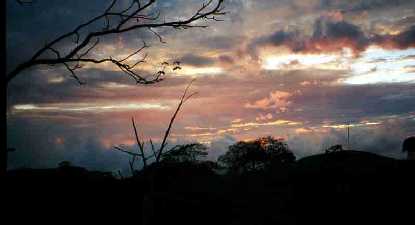 As we drove up to Monteverde from San Jose we saw lots of different birds and also a specacular sunset. Our trip around the cloud forest was disapointing as it rained continually, which meant that the wildlife stayed hidden. At the butterfly farm we saw many butterflies (pictures on the wildlife page). We also saw a sloth in the grounds of Monteverde lodge, which made Simon's day.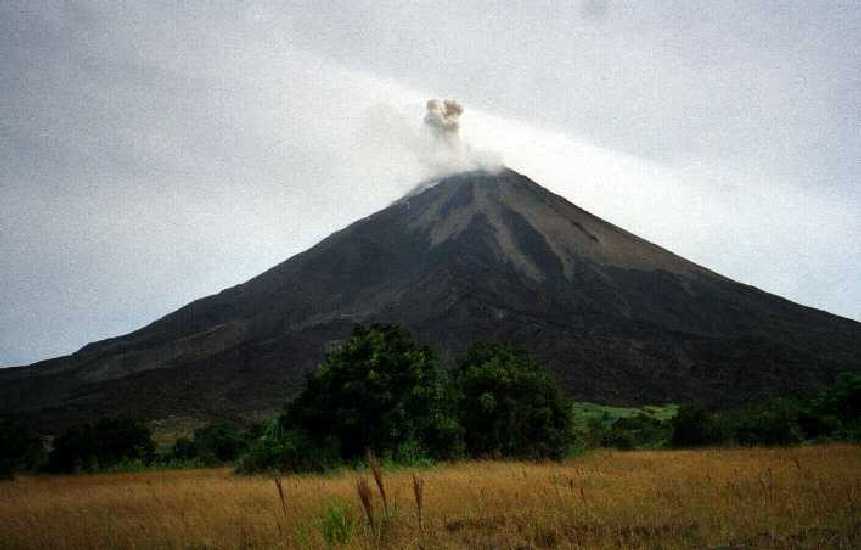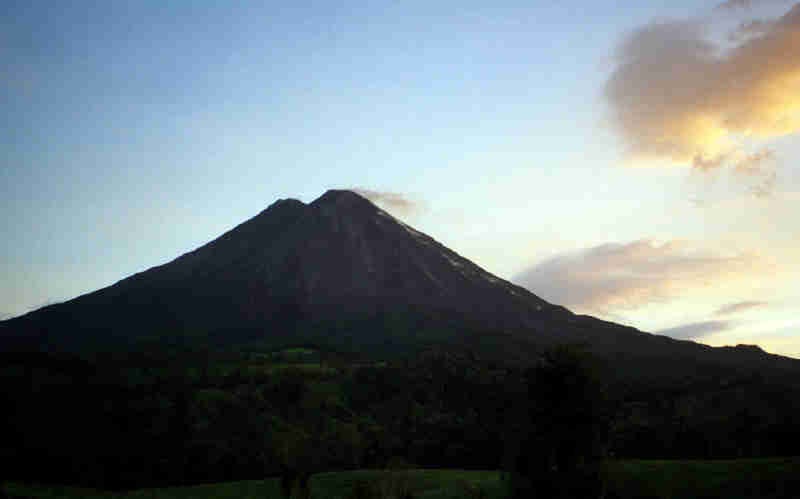 This active volcano puts on a regular performance, with frequent explosions and clouds of smoke. During the day you can see clouds of steam and gases, but at night the lava glows red and it is quite spectacular.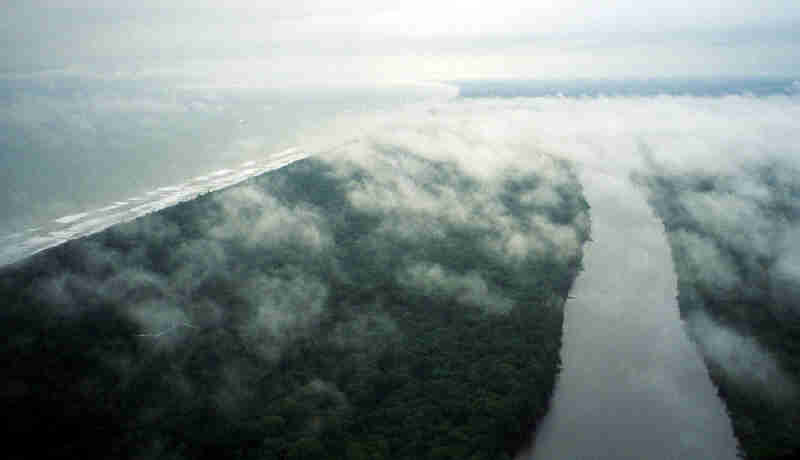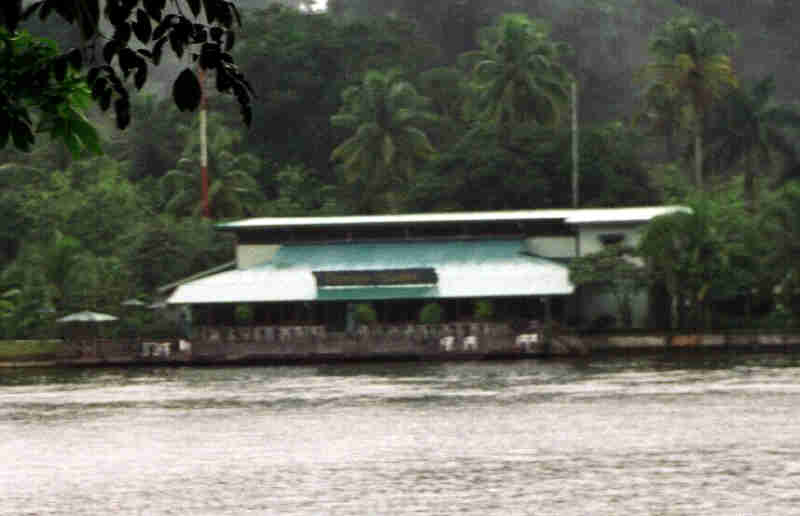 Our last week was spent at Tortuguero, a National Park on the Carribean Coast. As you approach by plane the park is a narrow strip of forest along the coast.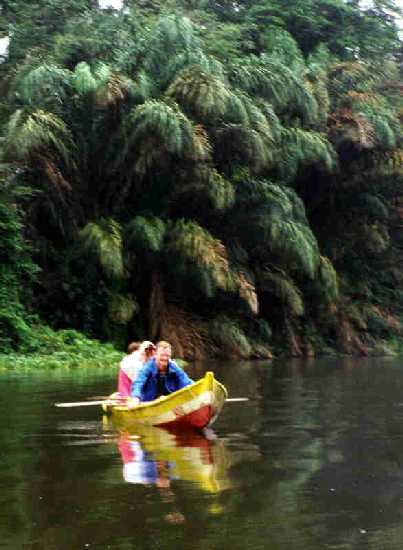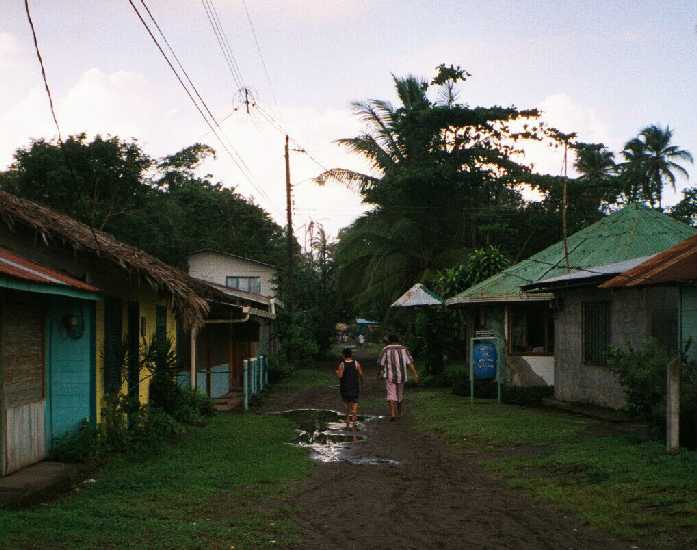 Our time here was spent relaxing at the lodge and taking boat trips along the waterways to see the wildlife. Simon even took a trip in a canoe (left), a mahogony dugout, which caused great consternation amongst the lodge staff. The village itself (right) consists of one 'main street' with houses either side.

We booked our trip to Costa Rica through Journey Latin America, their web address is www.journeylatinamerica.co.uk. In Costa Rica they use Costa Rica Expeditions www.crexped.co.cr. We joined two of Costa Rica Expedition's tours, the first was the Rivers and Rainforest tour starting from San Jose and visiting Corcovado, Savegre, and White Water Rafting. This tour included a naturalist guide throughout who was very good. This trip really was a 'get away from it all' trip and very enjoyable and I would thoroughly recommend it. The second tour was the Explorer (JLA call this Jabiru) which included Monteverde, Arenal, Tortuguero and one day of white water rafting. We skipped the one day rafting and stayed at Tortuguero for longer instead. We did not have a guide with us all the time on this tour but had local guides in each place.