We hoped to be able to see Mount Cook and the Tasman Glacier when we stayed at Omarama. Unfortunately the weather was against us and we couldn't see anything. Mount Cook village itself would be a good place to stay to explore Mount Cook and take a scenic flight, however when we were there the weather was too bad for flying. There was not very much too see in Omarama itself.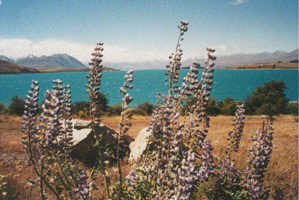 Lake Tekapu is a good place to stop to photograph the Southern Alps. The distinctive turquoise colour of the water comes from light reflected in microscopic rock particles suspended in glacial meltwater. The area is reputed to have the clearest air in the southern alps. Lake Pukaki nearby has views of Mount Cook in good weather.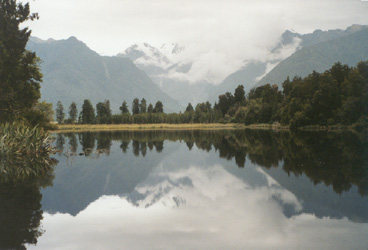 Over on the other side of the Mountains on the West Coast, Lake Matheson also has great views of Mount Cook and Mount Tasman. The lake was formed by an iceberg left behind when the Fox Glacier retreated 14,000 years ago. There is a boardwalk around the Lake with several spots for photographing the mountains.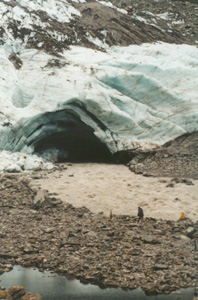 There are two main glaciers to visit on the west coast, these are the Fox Glacier and the Franz Josef Glacier.

This picture is of the Fox Glacier.

You can walk to the edge of both glaciers, both approach walks are quite different with the Fox valley being less sheer but having more impressive rock falls.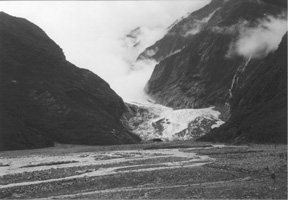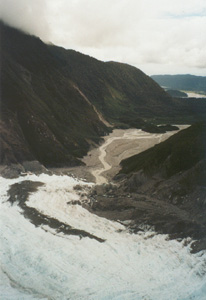 These two pictures are of the Franz Josef Glacier and show the same scenery but from two different vantage points. The picture on the left is looking up to the glacier from the approach walk. The picture on the right was taken from a helicopter over the glacier and looks down to the end of the glacier. The first picture was taken from the center right of the second.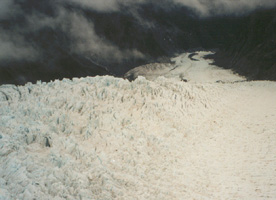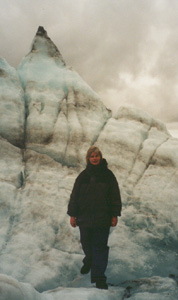 By far the best way to see the glaciers is on a heli-hike. You get a short scenic tour over the glacier and then land on the edge. After putting on hob nailed boots you then walk with a guide across the ice, crossing crevasses and looking at the ice formations. The formations on the left are called The Pinnacles.