Milford Sound is only about 100km from Queenstown as the crow flies but is 300km by road and takes about 5 hours to drive there. The day we went it was raining and the cloud base was low so visibility was not good.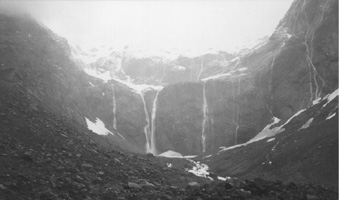 The scenery was still spectacular as hundreds of temporary waterfalls spring up to carry water sown sheer cliffs to the valley below. This picture was taken just before the Homer Tunnel that takes you through the mountain and through to the Milford Valley. You can see a number of these waterfalls in this picture.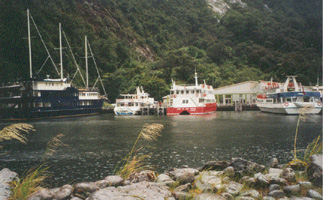 At Milford Harbour a number of different companies vie for the tourist business offering boat trips along Milford Sound to the Tasman Sea. You can only really appreciate the scale and extent of the sound from the water. We were recommended to take the longer tour that visits the underwater observatory, but this was closed due to the rain. Apparently when it rains a lot the water gets churned up and becomes too cloudy to see anything in the observatory. This pictures shows the boats in the harbour, we took the Milford Adventurer, which is the small boat second from the left.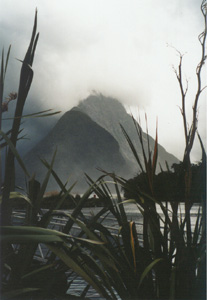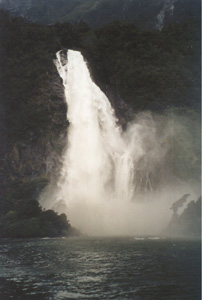 Mitre Peak (left) dominates the skyline of Milford Sound but was shrouded in mist for most of our visit.

The Lady Bowen Falls (right) are one of only a few permanent waterfalls in Milford Sound. The falls are at their most spectacular when full of water, as in this picture.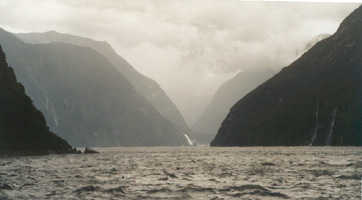 This picture was taken from the boat looking back along Milford Sound towards Milford Harbour, you can just see the Lady Bowen falls in the distance on the left.