Wai-O-Tapu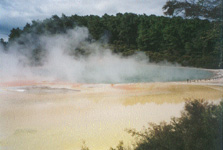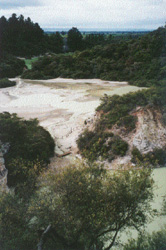 Wai-O-Tapu, meaning Sacred Water in Maori, describes itself as a thermal wonderland. I found it interesting but not a patch on Yellowstone in the USA. The artist palette on the left is named for the coloured pools formed by chemical deposits.

Towards the back of the same picture is the champagne pool which is the largest hot water pool at Wai-O-Tapu. On the right is a view of the lower Wai-O-Tapu valley with the frying pan flat in the foreground, behind it is the green water of Lake Ngakoro (the grandfather).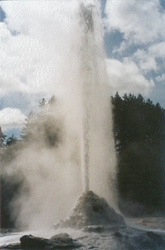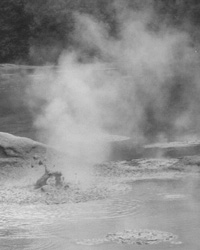 The Lady Knox Geyser (left) performs for tourists at 10.15am every day - the reason it is so prompt is that the geyser is started artificially by adding soap powder! This was discovered by some early colonists by accident when they were washing their clothes.

On the right is the Devil's Ink Pot, a pool of bubbling mud!



Hell's Gate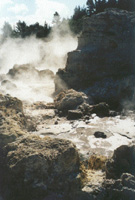 Hell's Gate Thermal Valley is to the North of Rotorua. This is a small attraction and has lots of bubbling mud pools and the like. It features a pool called Map of Australia, its stretching the imagination a bit! Its quiet and is one of the less visited areas.



Waimangu Volcanic Valley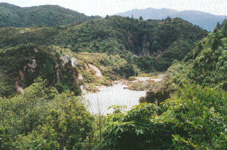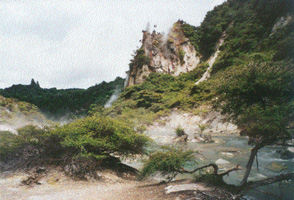 Waimangu is an extraordinary place. The thermal valley was formed following the eruption of Tarawera in 1886. Before this eruption this area had no thermal activity and was scrub land. On the left is a view down the valley from Echo Crater to Frying Pan lake. On the right is a thermal stream steaming down from frying pan lake, with Cathedral Rock in the background.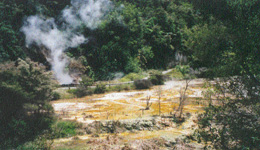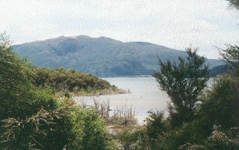 Warbrick Terrace (left) is a series of multi coloured fast growing silica terraces.

The view on the right is of Lake Rotomahana, where we cruised on the lake. This lake now is much bigger than it used to be, it became much larger after the 1886 eruption. The lake was also the site of the famed pink and white terraces which were visited by tourists in the 19th century. They were completely destroyed by the eruption.

These steaming cliffs (right) have hot earth from lake edge to cliff top. The red colouring is caused by iron oxide.


Visit the Waimangu Volcanic Valley website to find out more.



Te Wairoa Buried Village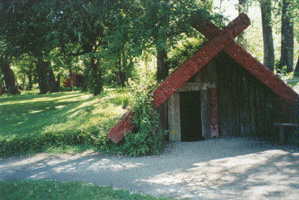 Another result of the Tarawera eruption of June 1886 was that the village of Te Wairoa was buried by volcanic ash and mud. The village has now been partly excavated and you can see here an excavated Maori whare (house). There is more to see on the buried village website.