Harry Potter Boxed Sets New!
Individual Titles
Comic Relief Books


Harry Potter Boxed Set (Children's Edition) by J.K. Rowling
(Hardcover, 7 volumes, 1 Oct 2007) This is a fabulous opportunity to own all seven Harry Potter titles - "Harry Potter and the Philosopher's Stone", "Harry Potter and the Chamber of Secrets", "Harry Potter and the Prisoner of Azkaban", "Harry Potter and the Goblet of Fire", "Harry Potter and the Order of the Phoenix", "Harry Potter and the Half-Blood Prince" and "Harry Potter and the Deathly Hallows" - in a fantastic boxed set.


Comic Relief has specially commissioned some books, so if you buy these you will be supporting comic relief. Comic Relief is a registered charity no.326568. These books were be published on 12th March 2001.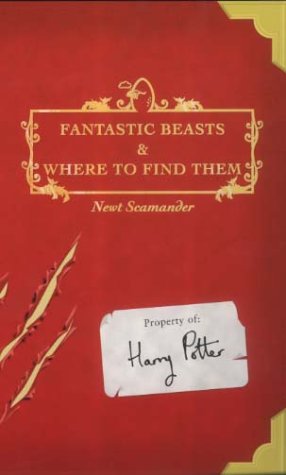 Comic Relief: Fantastic Beasts and Where to Find Them by J.K. Rowling
As Albus Dumbledore says in his introduction, this set textbook by Newt Scamander has given the perfect grounding to many a Hogwarts student. It will be helpful to all Muggles out there too.

Comic Relief: Quidditch Through the Ages by J.K. Rowling
Did you know that there are 700 ways of committing a foul in Quidditch? Have you ever wondered how the Bludgers came into existence or why Wigtown Wanderers have pictures of meat cleavers on their robes? This copy of the volume in Hogwarts School Library contains everything you need to know.


Individual Titles
Harry Potter and the Philosopher's Stone by J.K. Rowling Paperback - 223 pages (30 June, 1997)

Synopsis: Harry Potter is an ordinary boy who lives in a cupboard under the stairs at his Aunt Petunia and Uncle Vernon's house, which he thinks is normal for someone like him whose parents have been killed in a "car crash". He is rescued into a world where magic lessons are the order of the day.

Harry Potter and the Chamber of Secrets by J.K. Rowling Paperback - 251 pages (February 1999)
Harry is returning to Hogwarts School of Witchcraft and Wizardry after the summer holidays and, right from the start, things are not straightforward. Unable to board the Hogwarts express, Harry and his friends break all the rules and make their way to the school in a magical flying car. From this point on, incredible events happen to Harry and his friends--Harry hears evil voices and someone, or something is attacking the pupils. Can Harry get to the bottom of the mystery before it's too late?

Harry Potter and the Prisoner of Azkaban by J.K. Rowling Paperback - 320 pages ( 1 April, 2000)
This is a fantastic adventure of mystery, magic and mayhem combined with liberal doses of humour and plenty of suspense. Forced to do his homework in the dead of night and forbidden to refer to his magic skills or his life at Hogwarts School, Harry Potter is forced to endure the summer holidays with the dreaded Dursleys. The arrival of Aunt Marge is the final straw and, in a fit of anger, Harry breaks all the rules and casts a spell on her, causing her to blow up like a balloon. Running away from his dreaded relatives, Harry expects to be expelled from Hogwarts for his blatant flaunting of the rule not to use magic outside term time. However, the arrival of the mysterious Knight Bus and a meeting with Cornelius Fudge, the Minister of Magic, result in Harry enjoying the rest of the holidays in the wonderful surroundings of the Leaky Cauldron.

Harry Potter and the Goblet of Fire by J.K. Rowling Hardcover - 640 pages ( 8 July, 2000)
In the fourth instalment, the teenage Harry has a certain gawky charm that fits well with his advancing adolescence. As the story moves on, Harry too moves on to a new level of maturity that leaves the reader wondering how he will learn from his experiences, and liking him all the more as a character.

Harry Potter and the Order of the Phoenix (Harry Potter 5) by J.K. Rowling Paperback - 768 pages (10 Jul 2004)
Synopsis: Dumbledore lowered his hands and surveyed Harry through his half-moon glasses. 'It is time,' he said, 'for me to tell you what I should have told you five years ago, Harry. Please sit down. I am going to tell you everything.' Harry Potter is due to start his fifth year at Hogwarts School of Witchcraft and Wizadry. He is desperate to get back to school and find out why his friends Ron and Hermione have been so secretive all summer. However, what Harry is about to discover in his new year at Hogwarts will turn his whole world upside down...But before he even gets to school, Harry has an unexpected and frightening encounter with two Dementors, has to face a court hearing at the Ministry of Magic and has been escorted on a night-time broomstick ride to the secret headquarters of a mysterious group called 'The Order of the Phoenix'. And that is just the start. A gripping and electrifying novel, full of suspense, secrets, and - of course - magic.
Hardcover version, 766 pages (21 Jun 2003)
Harry Potter and the Half-Blood Prince (Harry Potter 6) by J.K. Rowling Paperback,640 pages (23 Jun 2006)
Synopsis: "In a brief statement on Friday night, Minister for Magic Cornelius Fudge confirmed that He Who Must Not Be Named has returned to this country and is once more active. "It is with great regret that I must confirm that the wizard styling himself Lord - well, you know who I mean - is alive and among us again," said Fudge." These dramatic words appeared in the final pages of "Harry Potter and the Order of the Phoenix". In the midst of this battle of good and evil, "Harry Potter and the Half-Blood Prince" takes up the story of Harry Potter's sixth year at Hogwarts School of Witchcraft and Wizardry, with Voldemort's power and followers increasing day-by-day.
Hardcover version, 608 pages (16 Jul 2005)
Harry Potter and the Deathly Hallows (Harry Potter) by J.K. Rowling Paperback, 608 pages (10 Jul 2008)
Synopsis: In this final, seventh installment of the Harry Potter series, J.K. Rowling unveils in spectactular fashion the answers to the many questions that have been so eagerly awaited. The spellbinding, richly woven narrative, which plunges, twists and turns at a breathtaking pace, confirms the author as a mistress of storytelling, whose books will be read, reread and read again.
Hardcover version, 608 pages (21 Jul 2007)