What I'm Reading
In the Company of Cheerful Ladies (No 1 Ladies Detective Agency 6) by Alexander McCall Smith (Paperback, 272 pages, 28 Feb 2005)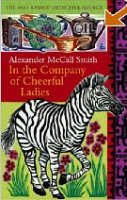 Synopsis Precious Ramotswe, that cheerful Botswanan private investigator of 'traditional build', is now married to Mr J.L.B. Matekoni of Tlokweng Road Speedy Motors. The Agency is busy, but Mma Ramotswe cannot ignore the plea which is made by a woman who comes to her with a tale of particular misfortune. Unfortunately, her attempts to help are interrupted by a close encounter between her tiny white van and a bicycle, and by a spectacular disagreement between her assistant, Mma Makutsi, and one of the apprentices at the garage. This apprentice has found a fancy girlfriend who drives a Mercedes-Benz. How can he be rescued from his folly? And as for Mma Makutsi, she has found a dancing class, and a man who may not be able to dance very well, but who admires her greatly. And all of this happens against a background of quiet sessions of bush tea, and of a land that stretches out forever under mile upon mile of empty sky...


On Chesil Beach by Ian McEwan
(Paperback, 176 pages, 3 Jan 2008)
Synopsis It is June, 1962. In a hotel on the Dorset coast, overlooking Chesil Beach, Edward and Florence, who got married that morning, are sitting down to dinner in their room. Neither is entirely able to suppress their anxieties about the wedding night to come ..."On Chesil Beach" is another masterwork from Ian McEwan - a story about how the entire course of a life can be changed by a gesture not made or a word not spoken.


Other Recommendations
Atonement by Ian McEwan
(Paperback, 384 pages, 9 Aug 2007)

Synopsis On the hottest day of the summer of 1934, thirteen-year-old Briony Tallis sees her sister Cecilia strip off her clothes and plunge into the fountain in the garden of their country house. Watching her is Robbie Turner, her childhood friend who, like Cecilia, has recently come down from Cambridge. By the end of that day, the lives of all three will have been changed for ever. Robbie and Cecilia will have crossed a boundary they had not even imagined at its start, and will have become victims of the younger girl's imagination. Briony will have witnessed mysteries, and committed a crime for which she will spend the rest of her life trying to atone.
See the film on DVD or on HD DVD
The Time Traveler's Wife by Audrey Niffenegger
(Paperback, 518 pages, 6 Jan 2005)
Synopsis This extraordinary, magical novel is the story of Clare and Henry who have known each other since Clare was six and Henry was thirty-six, and were married when Clare was twenty-two and Henry thirty. Impossible but true, because Henry is one of the first people diagnosed with Chrono-Displacement Disorder: periodically his genetic clock resets and he finds himself pulled suddenly into his past or future. His disappearances are spontaneous and his experiences are alternately harrowing and amusing. The Time Traveler's Wife depicts the effects of time travel on Henry and Clare's passionate love for each other with grace and humour. Their struggle to lead normal lives in the face of a force they can neither prevent nor control is intensely moving and entirely unforgettable.

A Quiet Belief in Angels by R.J. Ellory
(Paperback, 352 pages, 2 Jan 2008)
Synopsis Joseph Vaughan's life has been dogged by tragedy. Growing up in the 1950s, he was at the centre of series of killings of young girls in his small rural community. The girls were taken, assaulted and left horribly mutilated. Barely a teenager himself, Joseph becomes determined to try to protect his community and classmates from the predations of the killer. Despite banding together with his friends as ' The Guardians', he was powerless to prevent more murders - and no one was ever caught. Only after a full ten years did the nightmare end when the one of his neighbours is found hanging from a rope, with articles from the dead girls around him. Thankfully, the killings finally ceased. But the past won't stay buried - for it seems that the real murderer still lives and is killing again. And the secret of his identity lies in Joseph's own history...

Random Acts of Heroic Love by Danny Scheinmann
(Paperback, 448 pages, 1 Jan 2008)
Synopsis Danny Scheinmann paints a dramatic portrait of two men sustaining their lives through the memory of love. Cinematic and brimming with raw emotions, it is the magnificent and emotive debut from a remarkable new writer.



No. 1 Ladies Detective Agency
I bought the first No. 1 Ladies Detective Agency book some time ago but never got round to reading it until I went on a trip to Southern Africa recently. The trip included Botswana, where the novel is set, and so was a perfect opportunity to start reading and when I did I was hooked. The stories are great and I am working my way through them. Although I only took the first book away with me I bought the next two to read whilst I was on the trip.
The No.1 Ladies' Detective Agency by Alexander McCall Smith
(Paperback, 256 pages, 5 Jun 2003)
Synopsis Wayward daughters. Missing Husbands. Philandering partners. Curious conmen. If you've got a problem, and no one else can help you, then pay a visit to Precious Ramotswe, Botswana's only - and finest - female private detective. Her methods may not be conventional, and her manner not exactly Miss Marple, but she's got warmth, wit and canny intuition on her side, not to mention Mr J. L. B. Matekoni, the charming proprietor of Tlokweng Road Speedy Motors. And Precious is going to need them all as she sets out on the trail of a missing child, a case that tumbles our heroine into a hotbed of strange situations and more than a little danger ...Delightfully different, THE NO.1 LADIES' DETECTIVE AGENCY offers a captivating glimpse of an unusual world.

Other titles in the series:
Tears of the Giraffe (No.1 Ladies' Detective Agency 2)
Morality for Beautiful Girls (No.1 Ladies' Detective Agency 3)
The Kalahari Typing School for Men (No.1 Ladies' Detective Agency 4)
The Full Cupboard of Life (No.1 Ladies' Detective Agency 5)
In the Company of Cheerful Ladies (No 1 Ladies Detective Agency 6)
Blue Shoes and Happiness (No 1 Ladies Detective Agency 7)

The Good Husband of Zebra Drive (No 1 Ladies Detective Agency 8) by Alexander McCall Smith
(Paperback, 256 pages, 7 Feb 2008))
Synopsis As winter turns to spring across the red earth, acacia trees and slow green rivers of Botswana, all is not quite as it should be on Zebra Drive, home to Mma Ramotswe and her beloved husband Mr J. L. B. Matekoni. At the No.1 Ladies' Detective Agency there are the usual number of cases to be pursued, from persistent theft at Teenie Magama's printing works to the rather more serious case of three suspicious deaths at the Mochudi hospital, but there is discontent among the ranks. It is bad enough that Mr Matekoni's apprentice Charlie is off on another escapade and Mma Makutsi's impending marriage threatens her happy working relationship with Mma Ramotswe. And when - in trying to prove himself a worthy husband - Mr J. L. B. Matekoni himself decides to try a little detective work, disaster looms ...Tender, witty and wise, the latest instalment in the lives of Alexander McCall's Smith's extended Botswana family instructs us with familiar modesty in the importance of trust, love, not judging by appearances and what really makes a good husband.