Ingredients
1 ciabatta loaf
extra virgin olive oil
1 clove of garlic, peeled and sliced
12 slices of pancetta
juice of 1 lemon
4 large eggs
50g pack of wild rocket
1 oak leaf lettuce
3.5oz (100g) fresh parmesan cheese
salt and freshly ground black pepper

Method
Pre-heat the oven to 200C (400F, gas mark 6). Remove the crusts from the bread and then tear the bread into bite sized pieces. Put the bread onto a baking tray, drizzle with olive oil and toss with garlic, salt and black pepper.
Bake the bread for ten minutes until crisp and then place the pancetta over the bread and cook for a further 5 minutes until crisp.
To make the dressing, mix the lemon juice with 4 tablespoons of olive oil and add salt and pepper.
Put a large pan of water on to boil. When the water is simmering, poach the eggs for about 4 minutes. Whilst the eggs are cooking, toss the salad leaves in a large bowl with the pancetta, bread and dressing and then divide between four plates. Once the eggs are cooked, place an egg on each salad and grate over the fresh parmesan cheese.

Ingredients
7oz (200g) penne pasta
2 tablespoons olive oil
1 bunch spring onions, chopped
2 cloves of garlic, peeled and crushed
1 tablespoon green pesto
1 tablespoon tomato puree
small (8oz/220g)can chopped tomatoes
teaspoon worcestershire sauce
1 tablespoon dark soy sauce
7oz (200g) half fat creme fraiche
9oz (250g) seafood selection (a mixture of cooked prawns, mussels, scallops, squid)

Method
Cook the pasta in boiling water according to the instructions, drain and set aside.
Whilst the pasta is cooking, heat the olive oil in a frying pan and gently fry the spring onions and garlic until softened.
And the pesto, tomato puree, chopped tomatoes, worcestershire sauce, soy sauce and creme fraiche to the frying pan. Cook gently for two minutes until the sauce has heated through.
Add the seafood to the frying pan and cook for two minutes, ensuring that the seafood is hot. Add the drained pasta, stir and serve immediately.

Ingredients
1 sachet (11g) gelatine
1 teaspoon vanilla extract
12 floz (340ml) double cream
6 floz (170ml) milk
2oz (50g) icing sugar
fresh fruit to garnish

4 x 5floz (142ml) ramekin dishes


Method
Put the cream, milk, sugar and vanilla extract into a pan and bring just to the boil. Stir to dissolve the sugar and remove from the heat.
Whisk in the gelatine and, once it has completely dissolved, set aside for about 20 minutes, stirring frequently.
Pour the mixture into the ramekin dishes and allow to cool. Cover with clingfilm and refrigerate for at least 4 - 6 hours or overnight.
To serve, run a knife around the edge of each ramekin dish. Dip the base of each ramekin into boiling water for few seconds and then turn out onto a dessert plate. Decorate with fresh fruit and serve.

Cookery Book Recommendation of the Month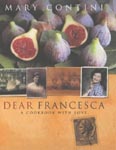 Dear Francesca by Mary Contini
If your mother had been brought up in an extended Italian family that was passionate about food, and gone on to run one of the country's most successful delicatessens, would you not want a record of all the knowledge and experience she had acquired? Dear Francesca provides just that, in a form that can be shared with other families and other cooks. Addressing her daughter Francesca, Mary Contini has written not only a wonderful cook book, but also a compelling and often moving account of her family history. She describes the life her grandparents led in a poor mountain village in Italy, their emigration to Scotland and the culinary traditions the extended family has kept alive in their adopted country. Informative, humorous and always passionate, this is a cookbook to read as well as to cook from day after day.

Return to Top